Mastering D3.js
Bring your data to life by creating and deploying complex data visualizations with D3.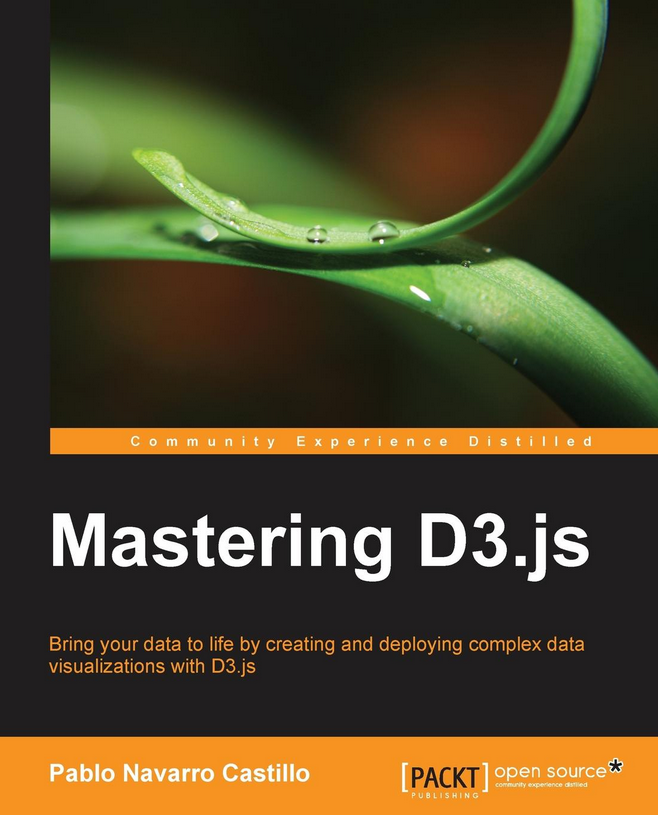 Who this book is for
If you are a software developer working with data visualizations and want to build complex data visualizations, this book is for you. Basic knowledge of D3 framework is expected. With real-world examples, you will learn how to structure your applications to create enterprise-level charts and interactive dashboards.
What you will learn
Create reusable chart components that can be used in other projects.
Build charts for browsers without SVG support by using polyfills.
Integrate D3 and Backbone to create interactive single-page applications.
Write, test, and distribute a D3-based charting package.
Create custom maps and integrate D3 with third-party mapping libraries.
Make a real-time application with Node and D3.
In detail
This is a practical guide with real-world examples that will help you to create custom charts, and integrate them with third-party libraries to create rich, engaging data-driven applications. Starting with the reusable chart pattern, we will take you through designing and creating complex, real-time data visualizations.
You will learn how to create reusable D3-based charts and integrate them into data visualization projects.
You will get to know how to create and distribute a custom charting package.
You will get acquainted with how to integrate D3 with mapping libraries to provide reverse geocoding and interactive maps.
This book culminates by showing you how to create enterprise-level dashboards to display real-time data.
The book is available at the Packt Publishing website and in Amazon.